Hoplite Polytonic Greek Keyboard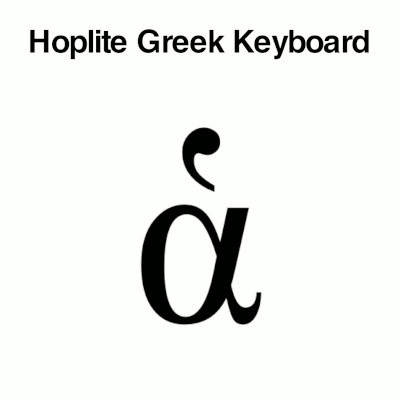 The Hoplite Polytonic Greek Keyboard facilitates the typing of polytonic Greek diacritics.
On iOS and Android, the Hoplite Keyboard can be installed as an alternate keyboard system-wide and used in any application.
On Mac, Windows, and Linux the Hoplite Keyboard can be used as a LibreOffice extension: type base letters with the Greek keyboard provided by your operating system and toggle on/off diacritics with the Hoplite Keyboard's hot keys.
Demonstration:
Type a Greek vowel
Then toggle diacritics on and off with the number keys
Contrasting diacritics will replace each other
| | | | | | | | | | |
| --- | --- | --- | --- | --- | --- | --- | --- | --- | --- |
| rough | smooth | acute | grave | circumflex | macron | breve | iota subscript | diaeresis | underdot |
Available for:
Features:
One key per diacritic
Add diacritics after typing the vowel
Add diacritics in any order
Toggle diacritics on/off
Breathings, accents, subscripts, macrons, breves, diaereses: no problem!*
Choose precomposed, precomposed with private use area, or combining-only Unicode modes.
* as long as your font supports it.
For best results, use a polytonic Greek font such as:
Unicode:
All three Hoplite Keyboards allow you to choose among three Unicode modes:
Precomposed mode uses precomposed characters when possible, falling back to combining diacritics for combinations where a precomposed character does not exist in the Unicode standard.
Precomposed with PUA (Private Use Area) mode is the same, but also uses the precomposed characters from the non-standard Private Use Area. These characters are not standard Unicode, but are supported by some fonts such as New Athena Unicode and IFAOGrec Unicode.
Combining-only mode uses combining diacritics to type decomposed characters. Few fonts handle combining diacritics well at this point; New Athena Unicode is currently the best.
Read more about the differences here.
Support:
Send questions and comments to: jeremy.w.march @ gmail.com
Developers:
The source code for these keyboards is Free Software and can be found on Github.